Robert H. Treman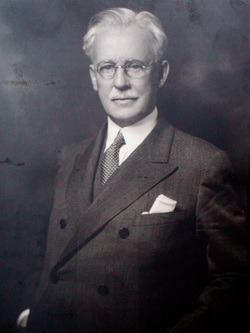 Who was Robert H. Treman?

Robert H. Treman was born into an influential Ithaca family in 1858. He attended local schools and Cornell University and joined the family hardware business in Ithaca in 1878. During his association it grew from a small local business to a large corporation. His family also owned an iron foundry, and they had controlling interests in the Tompkins County Bank, the Ithaca Gas Light Company, and the Ithaca Water Works. The Treman family acquired land around Buttermilk Falls and other creeks in case they needed to tap the water for their company. In 1891 he was elected director of a local bank and in 1932 became Chairman of what was eventually known as the Tompkins County Trust Company. He was also a director of the Federal Reserve Bank of New York from 1913 to 1931.

In 1891, Treman also became a trustee of Cornell, a post he held for 45 years. He worked with fellow trustee Henry Sackett to improve the Cascadilla and Fall Creek glens near the Cornell campus. This period after the Civil War was a time of increasing awareness of the America's natural environment. The Trustees of Reservations was established in Massachusetts in 1891 to protect the natural environment in that state. California quickly followed suit. By the 1920s the American Scenic and Historic Preservation Society had become prominent. A movement to establish state parks grew up, encouraged by the increased interest in automobile touring.

About 1915, as Treman was bringing friends to visit the Enfield gorge -- a well-known Ithaca scenic destination -- he noted the decline in the hamlet of Enfield Falls. Remembering his family association from his childhood days, he made arrangements to buy the mill as well as the miller's house. He closed the mill, which was still operating, temporarily. During World War I Treman and his wife Laura continued to buy properties in the area. In 1920, when most of the property in the hamlet of Enfield Falls had been acquired, Robert and Laura donated the land to New York State to establish a state park to be called Enfield Glen Reservation. Treman was chairman of the Enfield Falls Reservation Commission from 1920 to 1924. He also donated land, which had been acquired as a possible water source for the city of Ithaca, along Buttermilk Creek to create another park in 1923. He then continued to serve as Chairman of the Finger Lakes Commission, which also oversaw other parks in the area, from 1924 until his death in 1937.

In 1938 Governor Herbert Lehman renamed Enfield Glen Reservation as the Robert H. Treman State Park in memory of Treman's leadership, distinguished service, and generous donation of land to our state park system.




---