Robert H. Treman State Park
Located just 2 1/2 miles south of the City of Ithaca, NY in New York's Finger Lakes region, Robert H. Treman State Park is truly a landscape gem! It's central feature is 2-mile-long Enfield Glen, a rugged and wooded canyon, a legacy from the Ice Age. The scenic high point is 115-feet-high Lucifer Falls in the upper gorge! Find out about visiting Robert H. Treman State Park at the NYS Parks web page!
The Old Mill in the upper park is one of two remaining buildings from the former Hamlet of Enfield Falls and is on the National Register of Historic Places. A museum inside explains the history and workings of the mill and its machinery, and its place in the former agricultural hamlet. Drawing by Courtney Crawford ca. 1977, on the occasion of his 50th birthday celebration held at the mill; as well as many family reunions over the years. The Mill also houses a small Civilian Conservation Corps museum and exhibits about archaeology in the park.
---
Who are the Friends of Robert H. Treman State Park?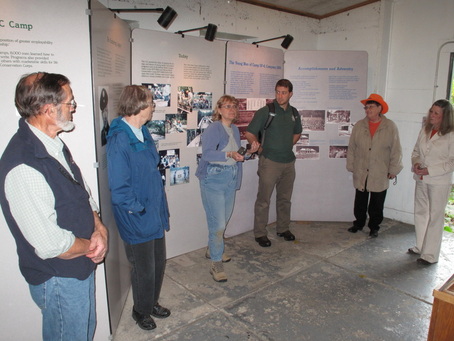 The Friends of Robert H. Treman State Park was incorporated as a 501(c)3 educational, non-for-profit organization. It is chartered through the State Education Department of the State of New York. Its purpose is to conduct educational and history-related programs, services, and activities in keeping with the nature of the park, to assist in fund raising activities, the purchase of objects, equipment, and supplies for the benefit of the park, and to support this park for the benefit of the local community, the residents of the State of New York, and the general public.

In addition to monthly meetings at the park, the Friends organization holds a winter lecture series, gives tours of the Mill at the Upper Park, publishes occasional newsletters, provides a bird list for park visitors, and prints a "family work sheet" for parents and children visiting the mill. The Friends have recently completed a park orientation film. Since 1998, the Friends have worked in partnership with students from Cornell University and Professor Sherene Baugher to undertake archaeological work focusing on the former hamlet of Enfield Falls located in the Upper Park. This partnership has resulted in new permanent exhibits in the historic mill and the creation of permanent outdoor archaeological exhibits and a walking tour brochure.

The Friends also host annual Fall Heritage Days at the park with tours of the mill, the gorge with its waterfalls, and the archeological sites. The Heritage Days include information about the years 1933 to 1941, when the CCC Company 1265 Camp SP6 was located near the mill. The CCC boys learned carpentry and masonry to help create park buildings and the many trails that make the park special. They were also crucial to cleanup and repair at the park and in the city of Ithaca after the Flood of July 1935.

The Friends' funds come from membership dues ($10 per year) and donations as well as the group project to sort and recycle bottles and cans left at the park. Members volunteer their time to accomplish this task, which often raises over $1000 in a summer. In addition to giving general support to the park, the Friends are currently engaged in raising money for a sprinkler system for the mill, which is 175 years old and is listed on the National Register of Historic Buildings. Such a system will cost over $60,000. The initial step, installing an alarm system, has been accomplished.

For just ten bucks, you can renew or join the Friends of Robert H. Treman State Park. With your membership, you support our free educational programs throughout the year, you can attend our monthly planning meetings, you have an opportunity to participate in our fundraising projects; and you know that you are supporting the enrichment of the visitors' experiences at the park and helping protect the park's resources, including the mill. Our membership year runs from April 1 through March 31 of the next year. Dues paid in January, February, or March will cover membership through March of the following year.

To join or renew, just print, fill out, and clip the form below and send a check for $10 to Friends of Robert H. Treman State Park, 105 Enfield Falls Road, Ithaca, N.Y. 14850.

Name:_____________________________________

Address:___________________________________

__________________________________________

Telephone:_________________________________

Email:_____________________________________

(If you give us an email address, you will receive updates of activities.)

---