T
he Friends of Robert H. Treman State Park deeply mourn the loss of Molly Adams, our long-time past president, secretary, and friend.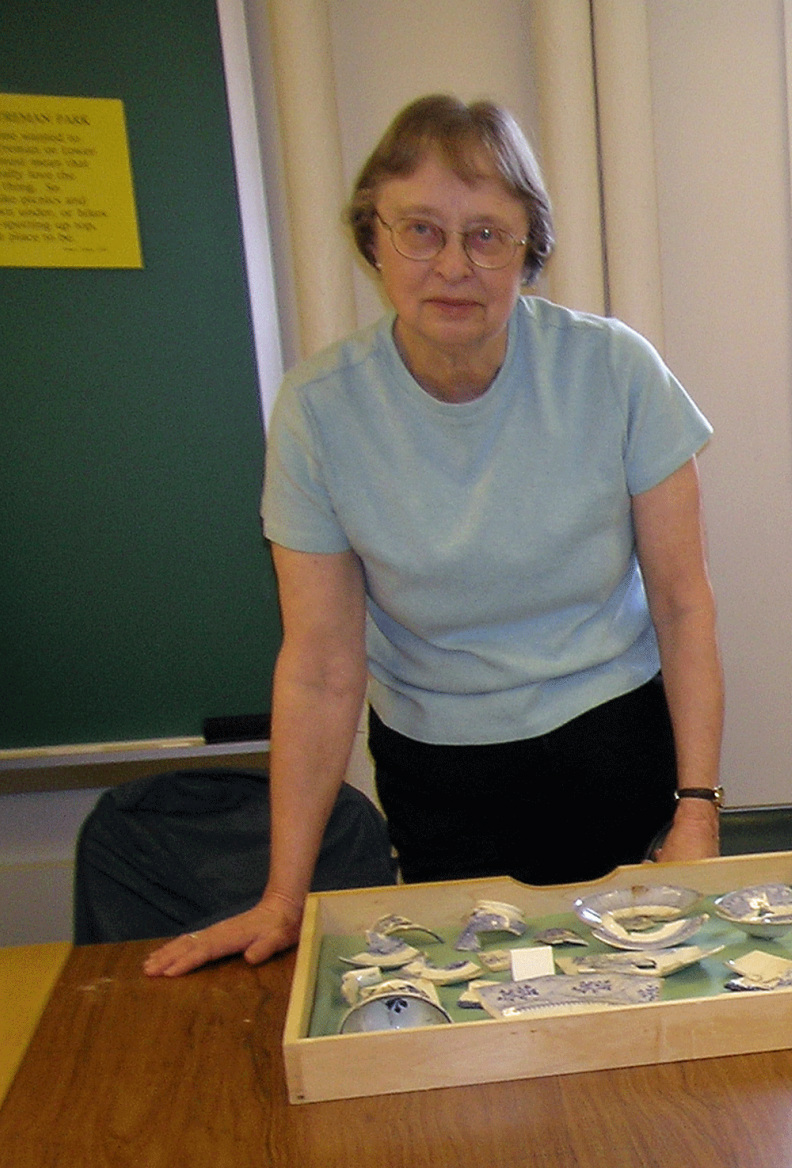 Molly Adams with artifacts unearthed at one of the archeological digs in the Hamlet of Enfield Falls, now the upper park.


It is with great sorrow that the Friends of Robert H. Treman State Park must report that
Molly Adams
, our secretary and past president and a cornerstone member of our Board of Trustees for many years, has passed away. We will miss her sorely and our organization will not be the same without her. Her dedication, intelligence, and love of the park and the Old Mill have been a sustaining current in our group since its earliest days in the 1990s.
The following obituary appeared in the Ithaca Journal on July 5, 2014. Click the following link if you would like to see the original, and perhaps make an entry in the "guest book":
Molly AdamsMargaret Alice Bradshaw Adams
, known to her family and friends (and just about everyone else) as Molly, was born in 1936 in Colorado Springs, CO. She was the oldest child of Aaron Bradshaw, employed by the US Forestry Service, and Barbara Finn Bradshaw, a registered nurse. She attended Colorado College on scholarship, and despite a bout with polio in her freshman year graduated summa cum laude and Phi Beta Kappa. She continued her studies in English language and literature at Columbia University, where she earned a Master's degree, and at the University of North Carolina at Chapel Hill. At UNC she met fellow graduate student Barry Adams, and they were married in 1962. When Barry completed his Ph.D., they moved to Ithaca so that he could begin his career in the Cornell English Department. Molly continued research on her Ph.D. dissertation but soon found that her attention and talents were in great demand at home and in her community. Molly and Barry had two daughters, and Molly helped to start a cooperative preschool in Brooktondale. Later she took on various responsibilities as PTA volunteer, helped run a bulk food buying club, edited the community newsletter, worked on the annual Brooktondale quilt, and served on the Caroline town board. As the children got older, she took on more volunteer activities, including many associated with the Democratic party. She served on the board of Historic Ithaca in the 1970's and worked to help restore the Clinton House and the State Theatre. She later joined the efforts to protect the Old Mill at Upper Treman State Park. Old buildings and local history became abiding passions. In 2002, she was forced to reduce her activities for a time following treatment for
breast cancer
. But in her characteristic fashion, she followed doctors' orders, did what needed to be done, and got back to work. She will be remembered as a champion for the poor, sick and elderly, and as someone who thought every day about what she could do to improve the lives of those around her. Molly is survived by her husband of 51 years, Barry B. Adams; their daughter, Emily Adams and son-in-law Paulus Dominicus of Belgium; their daughter, Katie Adams of Seattle; grandchildren Alan and Mara Pugh; grandchildren Eleanor, Theodor, and Alice Miller; her sister, Phyllis Rounds; and many nieces and nephews. She was predeceased by her younger brother Bob Bradshaw. There was a memorial event at the Upper Robert H. Treman State park on Tuesday, July 22, at 3 PM. There was a second commemorative event at the Brooktondale Community Center the following Sunday, July 27. Donations in Molly's memory may be made to Historic Ithaca or the
charity of one's choice