Volunteer for I Love My Park Day at Treman, Saturday morning, May 6, 2017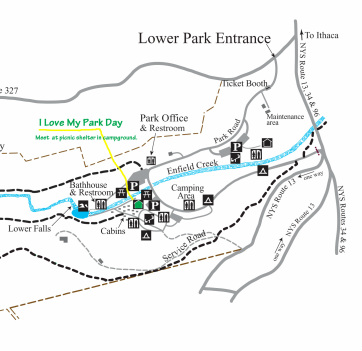 You can
register
now to help our park!
I Love My Park Day is an exciting statewide event, organized by
Parks & Trails New York
(PTNY) in partnership with the
New York State Office of Parks, Recreation and Historic Preservation
(OPRHP) and local Friends groups, to celebrate and enhance New York's parks and historic sites and bring visibility to the entire park system and its needs.
I Love My Park Day at Robert H. Treman State Park:
Start time: 9:00 AM
End time: 1:00 PM
Meeting location:
We will meet at the South Shelter in the lower park. We will divide in to smaller groups and choose projects. After the projects are complete we will meet back at the South Shelter for lunch at approximately 12:00-12:30 pm.
Special instructions:
Limited parking is available in the parking lot near the South Shelter. If this lot is full please park in the Main Lot before crossing the Fordway. Do not park along side the road or at the campsites. You can use the catwalk bridge next to the Fordway to cross the creek and reach the South Shelter.
Project DescriptionsProject 1:
We will be painting 3 cabins that have undergone renovations this winter. We will be building recycling bin centers and picnic tables for the campgrounds, swim areas and picnic areas. We will also be doing some light landscaping, tree plantings and trail clean up/maintenance. There may be some other painting projects such as signage around the swim area. All ages welcome. Please bring garden gloves and work or play clothes to get messy.
Project 2:
Spring cleaning the Old Mill building. This will include sweeping, mopping and polishing the wood.
For questions about this event:
Call: 607-273-3440
Email Address: cassy.lovelace@parks.ny.gov
REGISTER HERE
!
---